Jack Cohen
Graduate Student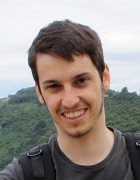 Research Interests
Using computational and numerical methods I am studying stochastic soft matter systems at low Reynolds number. I have constructed a coarse grained Brownian Dynamics (BD) simulation package to investigate the role of surface patterning in polymer translocation through nanopores. Through these investigations we have described how the pore interaction can modify the first passage time distributions of both homopolymers and block co-polymers. This has led to the proposal and theoretical demonstration of a multi-pore polynucleotide sequencing system which is able to identify short sequences statistically with arbitrary accuracy.
We have also studied the effect of confinement on polymer translocation through pores that have widths that vary periodically. This theoretical study has revealed an interesting class of dynamics that occurs when an object's motion is repeatedly hindered. In particular we have been investigating the width dependence of polymer-pore translocation and the gain in translocation time of an oscillating pore in comparison to a static pore at the mean width of oscillation. We find that there is a gain in translocation for oscillating pores with strong polymer-pore attraction.
I have also been interested in a diffusiophoretic system which shows chemotactic like behaviour. I have been studying the probability distributions in space and time of a particle whose motion is controlled by concentration gradients. This has been investigated through numerical solution of a Fokker-Planck partial differential equation. These solutions have also been compared to the equivalent Langevin description which allows comparison of both stochastic trajectories and probability distributions. We have characterised this system in terms of the Peclet number, which compares advection to diffusion, and the initial starting position of the body.
I am currently constructing a simulation package that incorporates hydrodynamics to give Stokes flow interaction between particles and correlated noise terms. Using this, I wish to study the effect of hydrodynamic synchronisation.
As a computational physicist I continue to learn about mathematical methods, simulation techniques and algorithms to aid my work. I like to combine languages and technologies such as BASH, C, C++, Java, OpenGL, Python, SQL databases, parallel programming: OpenMP, MPI, CUDA and packages such as Boost, MATLAB, matplotlib, MayaVi, numpy, processing.org and scipy to provide efficient and powerful computation, data analysis and visualisation. I also have experience in Mathematica, R, HTML, PHP, CSS, Arduino microcontroller programming and both analogue and digital electronics.
If you share any of my interests or wish to discuss research ideas then I would be happy to hear from you.
Publications
Translocation Through Environments with Time Dependent Mobility, J. A. Cohen, A. Chaudhuri and R. Golestanian, J. Chem. Phys. 137, 204911 (2012).
Stochastic Sensing of Polynucleotides Using Patterned Nanopores, J. A. Cohen, A. Chaudhuri and R. Golestanian, Phys. Rev. X 2, 021002 (2012).
Active Polymer Translocation through Flickering Pores, J.A. Cohen, A. Chaudhuri, and R. Golestanian, Phys. Rev. Lett. 107, 238102 (2011).